Study in Australia for Pakistani Students
If you're considering pursuing your studies in Australia, we are here to assist you as professional study visa consultants in Karachi, Pakistan. Australia is currently one of the most popular destinations for international students, ranking third after the USA and the UK. It offers a wide range of graduate and postgraduate programs across 100 institutions, including colleges and universities, with approximately 22,000 courses available for foreign students.
Australia's university system is highly regarded, ranking at No. 9 globally, surpassing neighboring New Zealand, Germany, and Japan. Australian education is known for its academic excellence, vibrant campus life, and qualified professors, faculties, and instructors. This reputation is reinforced by consistent rankings in prestigious lists such as the QS World Ranking and Times Education Rankings.
Australian educational institutions maintain well-structured curricula that prioritize the development of modern skills such as critical thinking, analytical reasoning, creativity, soft skills, communication abilities, cultural exposure, leadership, ethical understanding, and more. The Australian government ensures equal rights for all international students studying in Australia, and the only prerequisite is obtaining a study visa for Australia.
Key Information about the Australian Study Visa
The type of visa you require will depend on your age, the course you wish to pursue or have already been admitted to, and the duration of your stay in Australia.
Most international students need to apply for a student visa, specifically subclass 500, regardless of their field of study. Subclass 500 was introduced on July 1, 2016, and allows you to stay in Australia for the entire duration of your study program.
Typically, courses do not exceed five years in length. It is crucial to ensure the validity of your Australia student visa and adhere to the conditions outlined on your visa.
The student visa for Australia allows you to enter the country up to 90 days before your course starts. Within seven days of arrival, you must inform your education provider of your residential address, and if you change your address within Australia, you must inform them within another seven days.
Student Visa validity: 1-2/3 years for all full-time courses.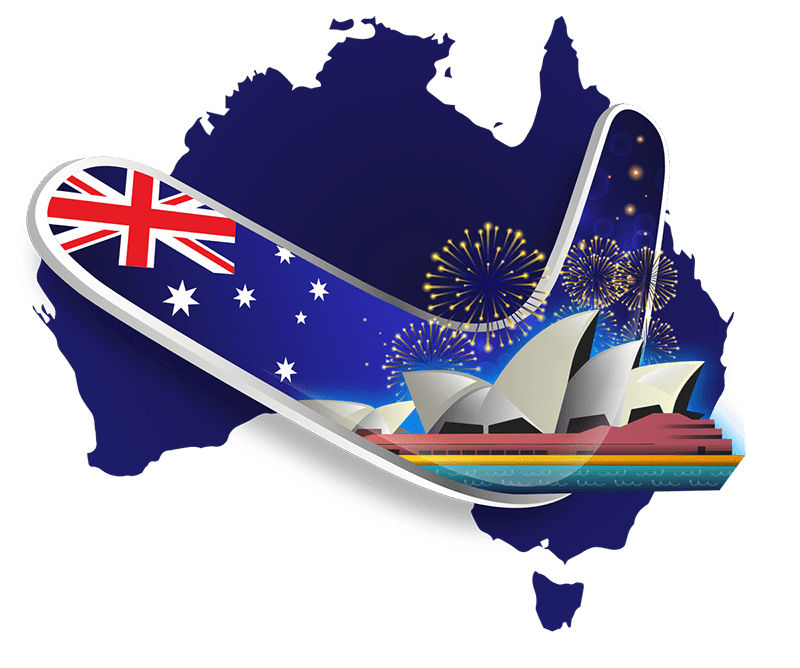 Australia Study Visa Requirements For Pakistani Students
To apply for an Australian study visa, you will need the following documents:
Two passport-size photographs.
Letter of acceptance or enrollment confirmation from a specific university or course.
Valid passport.
Genuine Temporary Entrant (GTE) statement.
Statement of purpose along with the Australia visa form.
Academic qualification certificates and documents verifying your work experience.
Evidence of English proficiency, such as an IELTS score.
Bank statement demonstrating sufficient funds to support your study and stay in Australia, including the return journey.
Details of your insurance policy.
English as a Second Language (ESL)
Students have the opportunity to study English as a Second Language alongside their undergraduate or postgraduate studies.
Students on full-time courses are allowed to work part-time up to 20 hours per week during study sessions and up to 40 hours per week during vacations.
Upon completing their studies, international students may be eligible for up to two years of a Post-Study Work Visa.
Financial Requirements for an Australian Student Visa
When applying for an Australian student visa, it is essential to demonstrate to the Australian Government that you have sufficient financial resources to cover the expenses associated with studying in Australia. These expenses include tuition fees, accommodation, living costs, dependents (if applicable), and travel. Here are the key points regarding financial requirements for an Australian student visa:
You must show evidence of funds to cover at least 12 months of living expenses in Australia. This includes your own living expenses as well as those of any accompanying family members. As a student, you need to demonstrate a personal annual income of at least 60,000 AUD, while accompanying family members must show a minimum of 70,000 AUD per year. This proof can come from your spouse or parent.
Loan Agreement (if applicable):
If you plan to take out a loan to finance your studies, you must provide proof of the loan agreement between you and the lender. Additionally, you may be asked to provide evidence of the collateral used for the loan.
If you have school-age children accompanying you, you need to demonstrate that you can afford to pay 8,000 AUD per year for their tuition.
If you have been accepted into a full-time study program funded by the Australian Ministry of Foreign Affairs and Trade or the Australian Department of Defence, you may need to submit a support letter as proof of your enrollment.
All visa applicants and their family members must hold and maintain Overseas Student Health Coverage (OSHC). You need to obtain an OSHC policy from an approved insurer in Australia and ensure that it covers the entire duration of your stay in Australia. The minimum coverage required is 430 AUD per year for singles, 2,680 AUD per year for couples, and 4,000 AUD per year for families.
The processing time for an Australian student visa is typically 4 to 5 weeks. Within seven days of your arrival in Australia, you will be required to register at the university where you have been accepted.
If you require consultation regarding the student visa requirements for Australia, we are here to assist you. We offer a free visa application counseling session to guide you through every step of the process.
Are you ready to get started? Book a FREE appointment with us to discuss your study options in Australia.
We're Committed to Find the Best Solution for Your Career !

We are available at Mon-Sat call us +92-33-111-77275 during regular business hours